Essence ¡Arriba! - La Vida Loca
Iniziamo subito dicendo che uno smalto dal nome "La Vida Loca" non può che farmi venire in mente
QUESTO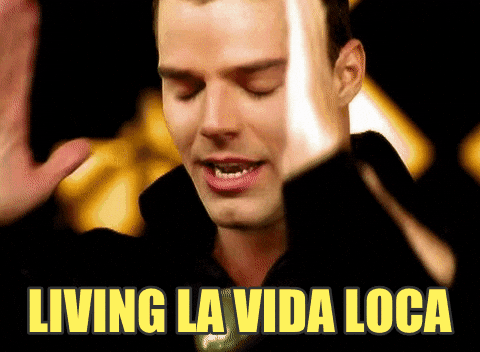 ...e di conseguenza scrivere tutto il post canticchiando la canzone.
Ma torniamo a noi.
Solamente dopo aver visto alcune blogger che seguo indossare i vari smalti, mi sono decisa a comprarne uno, il solo che mi aveva entusiasmato, lo 04 appunto, "la vida loca".
...Upside inside out...
Questo smalto ha un finish definito "spicy metallic", dove lo "spicy" indica gli shimmerini presenti e dove il "metallic", beh, ovviamente indica un colore metallico.
Per far meglio risaltare la sua "spiciness" è meglio metterci su un top coat bello lucido.
...She's livin' la vida loca...
Scheda tecnica
Nome: Essence ¡Arriba! - La Vida Loca (n. 04)
Colore: viola con shimmerini blu e rosa
Prezzo: 2.30 euro
Reperibilità: LE estate 2015 - non più disponibile
Stesura: ottima ma occorrono due passate
Asciugatura: veloce
Rimozione: facile
Durata: con due mani di smalto e TC normale (quindi non ad asciugatura rapida e/o lunga durata), su di me, ha resistito una settimana abbondante.
Altre considerazioni:
è un colore davvero particolare e molto bello, sono contenta di averlo preso!
...Her lips are devil red
And her skin's the color of mocha...
[Cliccate sulle foto per ingrandirle]
Qualora l'anteprima delle foto fosse sfuocata, sappiate che si tratta di un problema di Blogger e vi basterà cliccare sulla foto desiderata per vederla nitida. Grazie.
Dettaglio shimmer nella boccetta
...She will wear you out
Livin' la vida loca
She's livin la vida loca...
Siete d'accordo con me nel considerarlo un bello smalto o no? :)